About Us
A history of Nana's and the people who make it happen.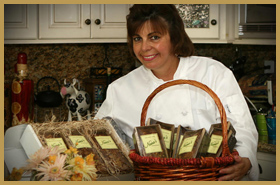 Gloria Lucia, baker and owner
Our traditional banana bread recipe was first made in the late 1800′s by my Great Grandmother Tulia. My Grandmother, Nana, was born in 1918. At the age of 16, she got married to a young attorney by the name of Albert Aristiz. Grandma Nana wanted to help her young husband provide for the family without having to leave the house, so that she would be able to continue to take care of their two daughters, Betty and Grace. Nana started baking her family Banana Bread recipe and selling her bread in the town were they use to live – Cali, Colombia.
Eventually, Nana had to hire help to be able to keep up with After a few years, Nana's daughter Betty took over the business and had continued success until 1962. Violence in Colombia forced them to leave the country and they decided to move to Los Angeles, California.  The bread was not in production again until 2000, when my mother Betty and I, complete with my Great Grandmother's passion for baking, brought the 92 year old recipe back to life and re-started the family business.  After my mother's passing, I brought my daughter Mercedes as the fourth generation into the family business.
In 2014, with the opening of our first bakery in Newhall, California, we expanded our line of recipes to include an assortment of baked goods – brownies, cookies, cakes, eclairs, and more – made with the same emphasis on quality ingredients and great taste as our banana breads that have made mouths water around the country.  Our gift baskets contain the intimate joys and comforts of one-of-a-kind homemade baking, guaranteed to brighten the day of a special someone and infuse festiveness into gatherings of all kinds, from corporate events to baby showers to weddings.
With Nana's Baked Goods, experience a taste of the good life.